WELCOME
TO THE HOME OF UNIQUE
FANTASY ART GALLERIES
Here you will find great fantasy art galleries of new and original art with descriptions of them by unique, inspired artists.
Fantasy Art Galleries include JAG's FANTASY LANDSCAPES,Christina V's HUMAN FIGURE ART and Rue's DARK FANTASY ART.
fantasy-art-galleries.com presents...
FANTASY LANDSCAPES, HUMAN FIGURE ART by JAG:
Initial artists will feature JAG, who is also the founder and creator of this website. JAG specialises in colourful human figures intertwined into fantasy landscapes. Other words to describe this work could be: `oil art` paintings of `surreal realism`, `fantasy landscapes` and `human figure art` or just some very complex concepts where words always just fall short. Although you will see some mythical creatures such as mermaids sprinkled into JAG`s work, this is fantasy with a difference in that it is more of `an expression of conscious and subconscious awareness ` than just plain fantasy. Here is the bottom left section ('Eternal Love') of one of his many masterpieces, followed by the whole painting which is called 'Eternal'. FANTASY ART GALLERIES FANTASY LANDSCAPES/HUMAN FIGURE ART: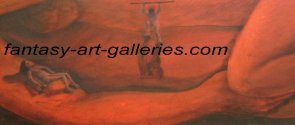 ETERNAL LOVE
by JAG - oil on canvas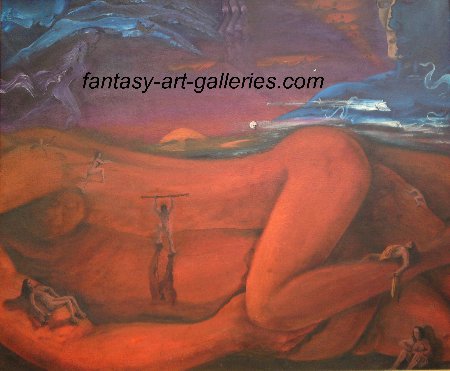 ETERNAL
by JAG - oil on canvas
To view more great art by this artist click on the FANTASY LANDSCAPES button at the top left corner of this page.
NEW ART BY JAG - TO SEE SOMETHING COMPLETELY DIFFERENT BY JAG CHECK OUT THE COOL ICE SCULPTURES PAGE
Alternatively if you are looking for dark fantasy art galleries...
DARK FANTASY ART:
Dark fantasy art by other artists such as RUE MASTA, has created a much more of a `manga horror` type set of creations which are uncompromising in their graphic portrayal of the human form in various unpleasant, very `dark` poses!
YOU CAN NOW VIEW SOME OF RUE'S WORK ON THE DARK FANTASY ART PAGE.
WARNING: We advise you that some of the images on the 'DARK FANTASY ART' may be disturbing and are not intended for persons under the age of 18, or anyone who may be offended by scenes of such a graphic nature. Please do not view if this applies to you. Thank you.
ART SALE NOW - ALL WORK BY JAG.
GO TO 'FANTASY LANDSCAPES' TO VIEW
PLEASE CLICK ON THE FANTASY LANDSCAPES BUTTON ON THE TOP LEFT OF THIS PAGE TO VIEW ALL OUR CURRENT ART FOR SALE WHICH YOU CAN PURCHASE SAFELY USING PAYPAL
NOTE: ALL POSTAGE TO UK DESTINATIONS IS BY 1st CLASS ROYAL MAIL ALL OTHER IS BY ROYAL MAIL INTERNATIONAL (SIGNED FOR)
YOU CAN VIEW ALL OF OUR ART GALLERIES BY USING THE BUTTONS ON THE NAV BAR OR USING THE LINKS AT THE BOTTOM OF THIS PAGE
For more information on ADD YOUR ART', and 'ART FOR SALE', click on the ABOUT US button at the top left of this page.
LOVE FANTASY ART---HUMAN FIGURE ART---DARK FANTASY ART---FANTASY LANDSCAPES
NEW ORIGINAL CONCEPTS COMMING SOON at fantasy-art-galleries.com
IF YOU ARE INTERESTED IN CREATING YOUR OWN WEBSITE, IT MAY BE EASIER THAN YOU THINK. CLICK ON THE LINK BELOW TO FIND OUT MORE:

,