ART FOR SALE
EXQUISITE ART AT fantasy-art-galleries.com
Here is a collection of all the art for sale we currently have at fantasy-art-galleries.com
Currently we only have art for sale by JAG. Most of the items below can also be found on JAG's FANTASY LANDSCAPES page (or Gallery - You can click on the thumbnails below to see larger versions of the paintings). JAG only sells high quality prints of his work in a range of mediums and sizes. You can view the ABOUT US or FANTASY LANDSCAPES pages for more information on the prints on the ART FOR SALE page. Prices start at £2.99 for hand signed A4 gloss prints, which is amazing value for images of this quality. Prices for postage start at £1 for UK destinations, and are sent by 1st class recorded delivery, and rise depending on location (note items sent outside of the U.K. are sent by 1st class Royal Mail - 'signed for'. All items are dispatched within 5 working days of full payment. All items on ART FOR SALE can be purchased through PayPal. If you do not have a PayPal account please register with them and then return to this page to make a secure purchase.
JAG's work can be described as dream state expressions hence the name FANTASY LANDSCAPES. Almost none of the paintings below were planned...
they evolved with free flowing brush strokes...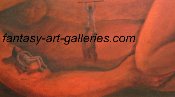 ETERNAL LOVE - Medium - Oil on Canvas
Fantasy Landscapes - Human Figure Art - Clip from Eternal by JAG.
This is human figure art of an extreme fantasy art nature. A human figure in a fantasy landscape made of a greater human figure, as is the rest of this painting. Note that that you can purchase a print of the clip here. You can see and purchase the full version at the bottom of this page.
BOX CANVAS PRINTS: (various sizes)
---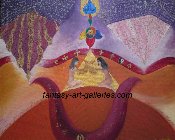 PARADISE ROAD - (THE ROAD TO PARADISE) - Medium: Oil/enamel on Canvas
Fantasy Landscapes - Human Figure Art by JAG. This is one of JAG`s earliest pieces. There is no religious commitment to any one religion here, just an acknowledgement of all paths.
Box canvas Prints: (various sizes)
---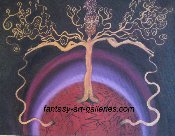 THE TREE OF DREAMS - oil/enamel on canvas
Unique, original fantasy art. A massive golden tree breaks through a seed the size of the moon bearing fruit wth branches of two women on either side creating balance for the whole. Click on the painting for more...
Box Canvas Prints:
---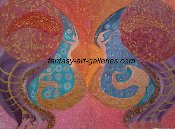 UNDERWATER MELODY - medium: oil/enamel/fabric/tobacco
Mythological fantasy art with the mermaid Gemini twins.Each mermaid has a gift to bear to the worlds... Box Canvas Prints:
---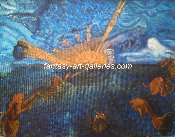 GODS VIEW medium: oil/enamel on canvas
GODS VIEW: Unique and original fantasy art by JAG. Gods View is apainting of a fantasy landscape depicting the journry made by various creatures and souls back to God...
Box Canvas Prints:
---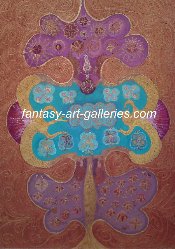 THE GENEROSITY OF MERMAIDS medium: oil/enamel on canvas
The Generosity of Mermaids by JAG: Mermaids bearing gifts above and below... Box Canvas Prints:
---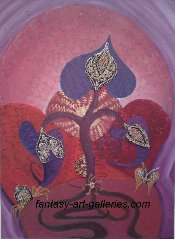 THE SIMPLICITY OF CREATION medium: oil/enamel/beads/fabric on canvas
The simplicity of creation by JAG: A simple ecosystem in a painting...the simplicity of creation is a vision of a fantasy landscape which could equally exist today as it could have millions of years ago...
Box Canvas Prints:
---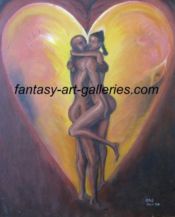 THE EMBRACE medium: oil on canvas
THE EMBRACE -
'The embrace' is a painting of the warm embrace between a man and woman completely in love with each other. The image gives the feeling of unity between the man and the woman so that you sense that they are truly joined and as one. The heart encapsulates the aura of the emotion generated as the couple hold each other. Box Canvas Prints:
---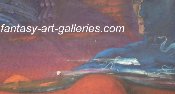 ETERNAL SKY medium: oil on canvas
Eternal Sky by JAG: another clip from the long awaited preview of the painting 'Eternal' - oil on canvas. Here you can see part of the sky made up of many hidden faces Box Canvas Prints:
---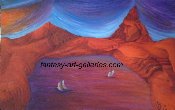 PANTHEO medium: oil on canvas
PANTHEO by JAG: The land is alive in this painting made with many human figures and faces, describes god being everywhere and in all living and non living things, that is if there is such a thing as non living things... Box Canvas Prints:
---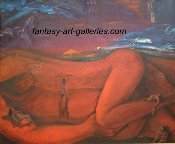 ETERNAL medium: oil on canvas
ETERNAL by JAG: A scene within a scene. This is a painting with many dimensions and points of view. A battle is taking place across a vast plane of shared love and tranquillity.
This is the full version of the painting. Box Canvas Prints:
WE WILL BE ADDING MORE GREAT ART FOR SALE SOON SO LOOK OUT FOR THAT...
We will also be introducing JAG's last and most unusual piece of artwork and absolutely nothing like what preceded it, well certainly not in terms of medium anyway...
---
ART FOR SALE - PAY HERE
ART FOR SALE - Box Canvas Prints
Note that all Box Canvas Prints are printed directly onto archival quality canvas and are then gallery wrapped on a chunky 32mm deep frame for a contemporary feel. We use the best quality inks available to ensure perfect reproduction of pictures and UV fade resistance of up to 75 years and longer depending on hanging conditions.
Our canvas prints come ready to hang and require no further framing.
Please be aware that we double varnish your print for extra protection so you can handle or wipe your print without fear of smudging, so please allow us time for this when considering dispatch. Postage cost varies depending on item and location. Item will be dispatched within 5 working days of payment received.
Also note that when you purchase a piece of artwork, it will not have the fantasy-art-galleries.com logo as they do below UNLESS you purchase a Giclee print in which case it will be minimized.
For more information on art for sale go to ABOUT US or read our privacy statement at the foot of this page.
Do you have 'art for sale'? You could add your work to this page and start selling. Go to ADD YOUR ART or CONTACT US. Remember by adding your art you are agreeing to our Terms and Conditions/Privacy statement which you can access below.
---
ART FOR SALE can also be viewed in JAG's FANTASY LANDSCAPES Gallery
---
Vivid, provocative DARK FANTASY ART by RUE
---
Still life, Christian Orthodox style icon - HUMAN FIGURE ART by Christina V.
---