ETERNAL SKY by JAG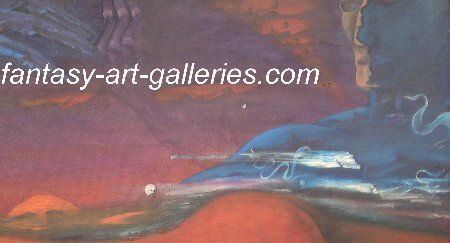 ETERNAL SKY by JAG - medium: oil on canvas
Another clip from the painting 'Eternal' - oil on canvas. Here you can see part of the sky made up of many hidden faces. In fact most of the rest of this fantasy landscape is made up of human figures of some kind. This may be because during my many journeys I noticed what appeared to me as human figures in mountain rock formation but even more so in the sky. I'm not saying I painted a copy of what I have seen but that I saw the endless possibilities of what I might see...
PAY ONLINE SAFELY WITH PAYPAL (If you do not have a paypal account you will need to visit www.paypal.com and register in order to make purchases here):
Box Canvas Prints:
(gloss art prints)
Rate this Art work
Would you like to make some comments about this art work or Give it a mark out of 10?
Please include the name of the Art work.
Your contribution will go live on the FANTASY ART BLOG page, once it is approved.
IF YOU WOULD LIKE TO SEE THE REST OF ETERNAL SKY CLICK ON THIS LINK