THE TREE OF DREAMS - BY JAG - FANTASY LANDSCAPES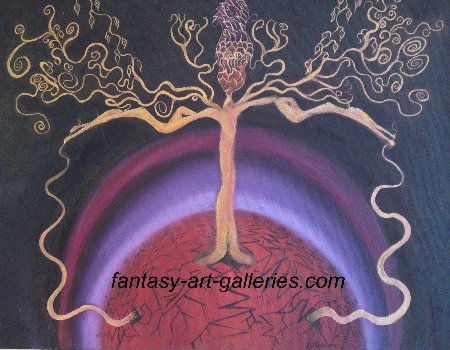 THE TREE OF DREAMS - oil/enamel on canvas - fantasy landscapes
NOTE FROM THE ARTST (JAG):
This unique painting can be described as a golden tree breaking out of a planetary seed with two women as branches growing on either side to balance. The tree is bearing a massive fruit on top while the tree tugs at its own roots in search of unity born out of duality.
OUT OF INTEREST: I painted this about 10 years ago. Not many people have seen it since then but the other day I overheard a colleague of mine at work telling someone she had a dream and wanted to know what it meant. She described this dream as a golden tree growing out of a seed bearing fruit with two naked women growing from its branches. Now this person has never seen this painting, in fact she was not aware that I paint at all and never seen any of my paintings. Yet she described it quite accurately. On hearing her description of course I described my painting and showed her a picture of it on my mobile. Nedless to say she was surprised although I did not get to tell her what I think it meant.
JAG
fantasy-art-galleries.com
Fantasy art with a difference - fantasy landscapes - original artwork by JAG
PAY ONLINE SAFELY WITH PAYPAL (If you do not have a paypal account you will need to visit www.paypal.com and register in order to make purchases here):
Box Canvas Prints: (various sizes)
(gloss art print)
CLICK HERE TO GO FROM THE TREE OF DREAMS TO THE SIMPLICITY OF CREATION
Rate this Art work
Would you like to make some comments about this art work or Give it a mark out of 10?
Please include the name of the Art work.
Your contribution will go live on the FANTASY ART BLOG page, once it is approved.