THE SIMPLICITY OF CREATION by JAG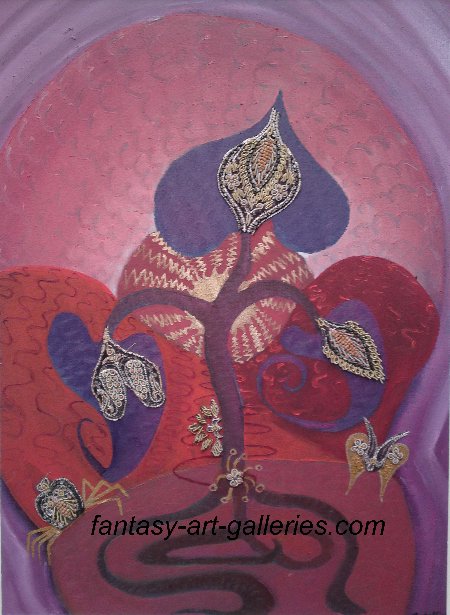 THE SIMPLICITY OF CREATION by JAG - medium: oil/enamel/beads/fabric on canvas
A painting inspired by the simple beauty of nature... An ecosystem in a painting...Bright vivid colours and a simple painting style form the basis of this painting (which is uncharacteristic for me). The use of gold and various mediums represent the life force flowing through all living things, including the sun which is central to life. This is a vision of a fantasy landscape which could equally exist today as it could have millions of years ago, since the same systems in nature existed then as they do now. The only difference is that natures growth was more abundant then, than it is now.
As I mentioned , here we have a range of materials used (mostly oils), and just as the title of the painting suggests, this is one of if not my most effortless paintings. This is rather unusual for me as I usually take over a month to complete a painting since it is often done in layers, and oils take time to dry. Yet, one of the things I love about this painting is its simplicity just as I love the complexity of the others.
PAY ONLINE SAFELY WITH PAYPAL (If you do not have a paypal account you will need to visit www.paypal.com and register in order to make purchases here):
Box Canvas Prints:
(gloss art print)
CLICK HERE TO GO FROM THE SIMPLICITY OF CREATION TO THE UNDERWATER MELODY
Rate this Art work
Would you like to make some comments about this art work or Give it a mark out of 10?
Please include the name of the Art work.
Your contribution will go live on the FANTASY ART BLOG page, once it is approved.