PARADISE ROAD by JAG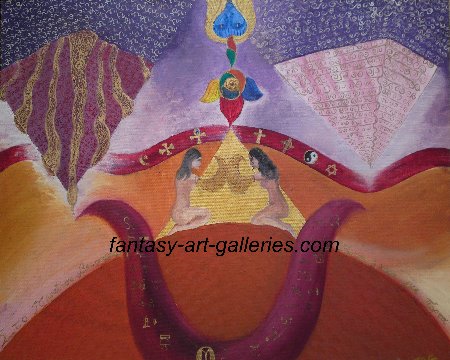 PARADISE ROAD - Medium: Oil/enamel on Canvas
THE ROAD TO PARADISE: Fantasy Landscapes - Human Figure Art by JAG. This is one of JAG`s earliest pieces. There is no religious commitment to any one religion here, just an acknowledgement of all paths...
...that is that all paths have developed through ancient knowledge which is touching so many relatively modern religions. Hence the ancient Egyptian reference which, arguably gives us the oldest known form of organised theological worship (religion), and the inclusion of what I believe to be the oldest man-made structure that I have seen on earth: The Sphinx. You will also notice the inclusion of several thousand ohms on one inverted pyramid as well as other religious symbols, hieroglyphs and Greek. The pyramids and the sphinx are inverted into the sky, since that is where they came from.
At the time I was saying that all paths to God would give you an accessible route, but none are trouble free.
When I completed this painting, I was a teenager with lots of foresight, but little experience. I think if I were painting this now my message would perhaps be just slightly different.
JAG
PAY ONLINE SAFELY WITH PAYPAL (If you do not have a paypal account you will need to visit www.paypal.com and register in order to make purchases here):
Box Canvas Print: (various sizes)
(gloss art print)
CLICK HERE TO GO FROM PARADISE ROAD TO GODS VIEW
Rate this Art work
Would you like to make some comments about this art work or Give it a mark out of 10?
Please include the name of the Art work.
Your contribution will go live on the FANTASY ART BLOG page, once it is approved.