GODS VIEW by JAG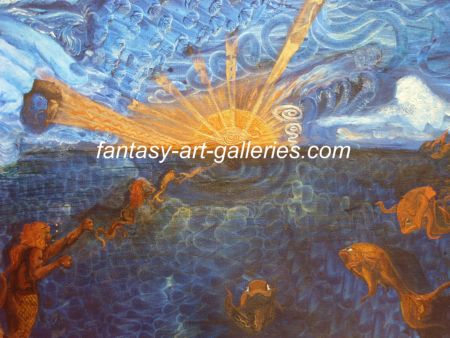 GODS VIEW - medium: oil/enamel on canvas
Unique and original fantasy art by JAG. This is a fantasy landscape depicting the journey made by various creatures and souls back to God. As you can see there is a lot of detail here and the travelling parties made up of mostly mermaids, fish and souls in the sky, are coming from all directions. In fact there is a sense of three dimensionality here so that the viewer feels the scene extending in all directions outwardly from the sun and beyond the horizon. I have used (and probably invented) a very unusual technique here to create the sea wave effect. Then painted over this to create the rest of the scene.
JAG
PAY ONLINE SAFELY WITH PAYPAL (If you do not have a paypal account you will need to visit www.paypal.com and register in order to make purchases here):
Box Canvas Prints:
(gloss art print)
CLICK HERE TO GO FROM GODS VIEW TO THE GENEROSITY OF MERMAIDS
Rate this Art work
Would you like to make some comments about this art work or Give it a mark out of 10?
Please include the name of the Art work.
Your contribution will go live on the FANTASY ART BLOG page, once it is approved.