THE EMBRACE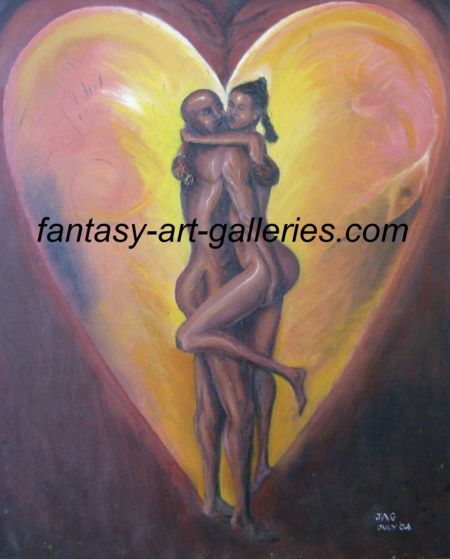 THE EMBRACE - medium: oil on canvas
Human figure art by JAG
This is a painting of the warm embrace between a man and woman completely in love with each other. The image gives the feeling of unity between the man and the woman so that you sense that they are truly joined and as one. The heart encapsulates the aura of the emotion generated as the couple hold each other.
This is a very rare painting by me as I was asked to paint this by a friend who had seen something like this painted by another artist (I don't know who). I reluctantly agreed since I generally as a rule NEVER copy other artists ideas. Nevertheless, needless to say my friend was persuasive enough and this was the outcome. I took one look at the original 'embrace' (i don't know what its called) and sketched an outline. After that I did not look at it again so what you see is my interpretation where I probably ended up with new faces with different proportions, changed the colours a little and added an eye and some patterns in the heart, but other than that it is very similar to the original. Although this is not entirely my concept (and was breaking my own rules by painting it), I still enjoy the senses the painting evokes and I am happy even if it makes only one person happy...so I am happy.
PAY ONLINE SAFELY WITH PAYPAL (If you do not have a paypal account you will need to visit www.paypal.com and register in order to make purchases here):
Box Canvas Prints:
(gloss art print)
CLICK HERE TO GO FROM THE EMBRACE TO THE TREE OF DREAMS
Rate this Art work
Would you like to make some comments about this art work or Give it a mark out of 10?
Please include the name of the Art work.
Your contribution will go live on the FANTASY ART BLOG page, once it is approved.