PANTHEO by JAG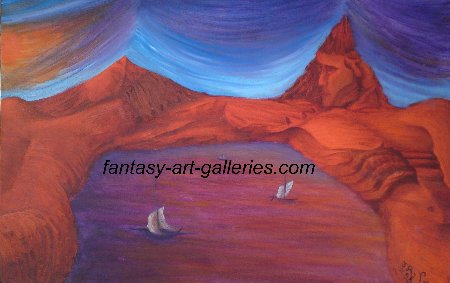 PANTHEO by JAG - medium: oil on canvas
The land is alive in this painting made with many human figures and faces. It describes god being everywhere and in all living and non living things, that is if there is such a thing as non living things. There are those of us who believe that all material and non material things are part of one universal being. But then this being would be completely alone in its own world...or would it be?
The name of the painting suggests that all things are a part of god and that even the land itself is alive with many parts that eventually make two and then one whole living landscape.
You can clearly see a man and a woman holding each others arms on the horizon, but of course this is a fantasy landscape made mostly of mountains and rock. There are faces hidden in the rock which make up the larger human figures and the sky forms harmoniously around the pair to show that all elements, which are included in the painting in various forms, are working together.
PAY ONLINE SAFELY WITH PAYPAL (If you do not have a paypal account you will need to visit www.paypal.com and register in order to make purchases here):
Box Canvas Prints:
(gloss art print)
DID YOU LIKE PANTHEO? CLICK HERE TO SEE MORE HUMAN FIGURE ART IN FANTASY LANDSCAPES BY THIS ARTIST
Rate this Art work
Would you like to make some comments about this art work or Give it a mark out of 10?
Please include the name of the Art work.
Your contribution will go live on the FANTASY ART BLOG page, once it is approved.