Eternal Love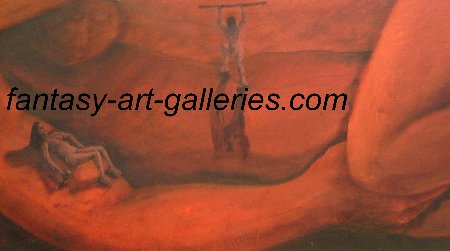 ETERNAL LOVE - medium: oil on canvas
Fantasy Landscapes - Human Figure Art - Clip from 'Eternal' by JAG.
This is human figure art of an extreme fantasy art nature. A human figure in a fantasy landscape made of a greater human figure, as is the rest of this painting which I will reveal soon. Actually several human figures make up the rest of this fantasy landscape.
Why Eternal Love? Because, sometimes we carry the pain of past Loves with us into the future...
PAY ONLINE SAFELY WITH PAYPAL (If you do not have a paypal account you will need to visit www.paypal.com and register in order to make purchases here):
Box Canvas Prints:
(Gloss art prints)
Rate this Art work
Would you like to make some comments about this art work or Give it a mark out of 10?
Please include the name of the Art work.
Your contribution will go live on the FANTASY ART BLOG page, once it is approved.
ETERNAL LOVE IS A SECTION FROM A LARGER PAINTING - CLICK HERE TO VIEW